I used Jerry Mishler's Action Pet Express to ship a one-and-one-half-year-old French Bulldog from Northern Virginia to Tokyo a few weeks ago (April 2021).  We ended up shipping my French Bulldog via Lufthansa airlines, and I'm happy to say she arrived safely.
Jerry is an older gentlemen.  He's very knowledgeable and I could tell from his interactions with the personnel at Lufthansa, that they enjoy doing business with him.  They all knew him on a first name basis, and were joking around having fun.  This made me feel good about leaving my puppy in their hands.
In addition to all of the above, Jerry only CHARGES $300 dollars when his competitors charge in excess of $3,000 dollars!  With the Lufthansa fee and Jerry's fee, I paid $1080 dollars.  I received quotes from three of his competitors, and they were $3,600 dollars, $6,800 dollars and $8,200 dollars.  
Why would anyone pay that? Literally all they do is book the flight with the airlines, and then drop your dog off.  Anyone that pays that is insane, as you're getting the same service Jerry provides, but for an astronomical price.  You don't always get what you pay for…  Just remember, like I said, Jerry is an older gentlemen, so it can be a little difficult talking to him over the phone, but aside from that, he's rock solid. Best of luck.
Veteran Owned Since 1969 | Open 24/7
Unlimited Free Estimates & Consultations
No Booking or Pet Move Management Fees
Itemized Billing
We're available 24/7, they aren't! Your furry family members deserve our 24 hour attention!
We can also help with Military PCS, Foreign Services, & Expat Pet Relocation – please remember that you are not required to work with an IPATA shipper, we have years of pet experience
The reason for the VERY high cost of pet shipping is NOT the Airlines, BUT the VERY inflated charges of IPATA Pet Shippers!
Our customers love that they can entrust us with their pets; as a veteran owned business and a proud member of the Animal Transportation Association, we take pride in our work and care for your animals; providing you with the best service at a reasonable price! ATA is Dedicated to safe and humane Animal Transport – WORLDWIDE
IPATA is Dedicated to HUGE profits, at YOUR expense, for their members! Be aware of IPATA scams!
Veteran Owned Since 1969 | Open 24/7
We offer domestic and international pet shipping by air; and over-the-road, door-to-door travel to mid-Atlantic states in the US.
Your pet's welfare and happy travel, at the most affordable price, is our mission.
We are located very near Washington, DC!  You know where we are!  We are NOT a 3rd party shipper located elsewhere in the world.  We do NOT take thousands of dollars from you just to make a couple of phone calls or send a couple of emails!  You should NEVER use a service that does NOT display their Head Office address!  Do NOT use a service that does NOT display their required USDA Intermediate Handler Permit number.  There are TOO many scam pet transport services out there!!
Located minutes from Washington, DC, Dulles, IAD. We can assist with pet travel WORLDWIDE! Most quote estimates available within 24 hours, except on weekends.
Call us at (888) 318-9696 or
(681) 252-0266
MOST Pet Shippers require a very lengthy complicated form be filled out just to get a PRICE QUOTE! This is TOTALLY UNNECESSARY! And, it is an intrusion into your personal life! All we need is:  Breed and weight of pet(s), Number of pets, Size of shipping kennel(s), Departing Airport, Destination City and State, or Country and Airport. THAT'S  IT! OUR RESPONSE to you with the quote is usually within 24 hours!
ALSO: For pets outside the USA being shipped TO the USA – you do NOT want a pet shipper in USA to arrange this! You MUST use a known shipper in the country of origin of travel! Pet shippers in USA MUST contact that very same shipper (that you could do yourself) then they charge you couple thousand dollars just to send a simple email!  Pets traveling as excess/checked baggage do NOT need an outside shipper!
REMEMBER: Our unlimited consultations with you are TOTALLY  FREE with NO obligations…NO sneaky charges that often pop up with other shippers! We provide FULL and COMPLETE  ITEMIZATIONS…you WON'T get this from IPATA shippers!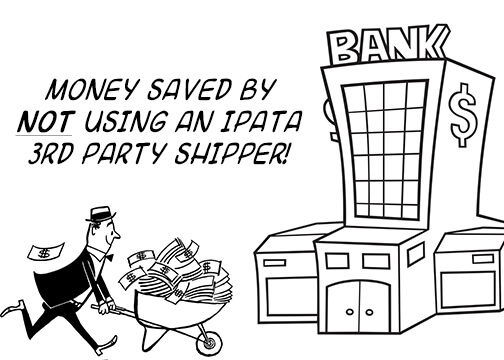 BEWARE: IPATA Pet Shippers often charge you a huge amount for an expedited booking request! There is NO such thing! The airlines have only ONE way to handle bookings. If you use IPATA, that is WASTED money. Just another gimmick to rip you off! At Action Pet Express – we automatically do ALL that is possible to honor your requested time and dates AND there is NO additional charge!
A competitor's new website is similar from other IPATA shippers...
Some IPATA Shippers claim they are "TSA approved" - The TSA has little to do with Pet Exports from the USA. We ALL follow TSA guidelines and do NOT need to be TSA approved. This is just a gimmick statement used by a few shippers.
Discounts. Action Pet Express doesn't offer discounts. Why? Because our prices are SO low, to begin with! Those who offer "discounts" are typically over-priced to begin with and use the "discounts" to sound like a deal. You will see this as you compare our prices with IPATA.
Some IPATA Shippers claim "Most veterinarians cannot sign international travel documents" - The truth is, MOST veterinarians CAN sign International travel certs. MOST are USDA accredited.
Some IPATA Shippers claim "30-minute free consultation." - First of all, not much can get done in only 30 minutes! We offer UNLIMITED FREE consultation.
Some IPATA Shippers claim "Excess (checked) baggage is a thing of the past." - Quite the contrary! It is a thing of the future. IPATA simply gets more and more expensive with CARGO moves.
Some IPATA Shippers claim "Cargo is 'more safe'?" - NO. The options are equal, as both 'Excess baggage' pets and 'cargo' pets fly side-by-side in the very same animal (AVI) compartment on the plane. But more importantly, cargo shipments are loaded BEFORE baggage. This means that baggage is off-loaded BEFORE cargo, so 'excess baggage' pets are available MUCH sooner to the passenger than 'cargo' pets. And, pets traveling as excess baggage do NOT need to meet the requirements of the country where a connection takes place.
There is one reason ONLY that so many IPATA shippers try to push cargo shipments as being best. This is how they can take more of your money. When shipped as 'excess baggage' NO pet shipper is required, so, IPATA shippers can NOT squeeze more money from you!
We would like to say "Thank you" to Club Pet for your long standing service to the pet community.
Call us at (888) 318-9696 or (681) 252-0266
What We Offer
We offer domestic and worldwide pet shipping by air and door to door over the road ground transport at a fraction of the cost of using an IPATA 3rd party pet shipper.
International Air Pet Shipping
We use, and highly recommend, LUFTHANSA Airlines. They are by far the BEST for pet travel.
Urgent Notice
Temporary Suspension of Dogs Entering the United States from Countries Classified as High Risk for Dog Rabies. For more, contact the CDC at 1-800-232-4636, cdcinfo@cdc.gov OR the USDA at 1-844-820-2234. Click to read more.
Domestic Air Pet Shipping Services
With over 50 years of experience, you can feel confident in our services. USDA Intermediate Handler Certified. Cert #54 H 0004.
Domestic Ground Transportation
We offer door to door ground transportation within the following states: KY, MD, NJ, NY, NC, OH, PA, SC, TN, VA, WV and Washington DC.
International Air Pet Shipping
Safe and reliable relocation services for Greater Washington, DC.  International relocation can be complicated, let us help. We can assist expats with pet relocation!
Military Permanent Change of Station Pet Shipping
We are dedicated to PCS Services as Action Pet Express is operated by a former Active Duty Service Member.
Providing dedicated service to the Foreign Service Community for over 20 years.

USDA Certified
As required by law, we are registered with the USDA.  Our Intermediate Handler certificate is # 54 H 0004.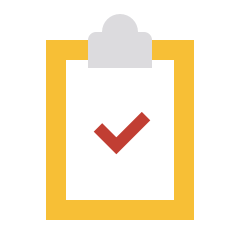 Affordable & Honest
Unlike IPATA and third party pet shippers, we do NOT charge you for unneeded services.  You will receive an itemized bill from us detailing all charges.   You will save hundreds, if not thousands, with our service.

Experienced
We have over 50 years of experience in pet transportation.  Make a better choice for your animal and for you: leave your pet's move to us, and your companion will arrive safe and on time, all for a price that equals major savings for you.
The reason for the VERY high cost of pet shipping is NOT the Airlines, BUT the VERY inflated charges of IPATA Pet Shippers!
Airlines & Animal Travel
Listen to our interview with Kim Greenhouse from It's Rainmaking Time! to learn more about pet relocation.
IPATA & Third Party Shippers
At Action Pet Express you receive superior service and knowledge (over 50 years in business) at MUCH lower costs than IPATA!  Action Pet Express does not charge for services you do not need or want. You will find that IPATA and third party shippers will charge you for services you do not need! We itemize all charges and we will SAVE you several hundreds, if not thousands, of dollars with your IMPORT and EXPORT transit needs. Your beloved animals(s) deserve the special travel knowledge only we offer!
Want to Learn More?
Read about common IPATA and third party shipping scams, alerts and more!