Considering Other Pet Shippers?
Buyer Beware: If you're considering using ANY of these IPATA pet shippers, please know that they will likely charge you $3,000 to $6,000 MORE than an independent pet relocation service, such as Action Pet Express. We also itemize our invoices, they won't. As Jerry says, "they'll try to sell you ocean front property in Arizona!"
CAPITAL PET MOVERS in Washington DC
PENDER AIR in Washington DC
AIR ANIMAL in Tampa and Orlando, FL
ALL PET TRAVEL in Tucson, AZ
ANIMAL LAND (petmovers.com) in Atlanta, GA
BioTrans USA
COSMOPOLITAN CANINE CARRIERS in Stratford, CT (non-IPATA)
HAPPY TAILS in Tucson, AZ
JET-A-PET in the USA
PET EXPRESS in San Francisco
PET PROS SERVICES in Orlando, FL
PET RELOCATION in Austin, TX
STARWOOD ANIMAL TRANSPORT
The LUXE in Brockton, MA
WORLD PET TRAVEL in Texas
Precious Pets Transport in South, VA
MOST Pet Shippers require a very lengthy complicated form be filled out just to get a PRICE QUOTE! This is TOTALLY UNNECESSARY! And, it is an intrusion into your personal life! All we need is:  Breed and weight of pet(s), Number of pets, Size of shipping kennel(s), Departing Airport, Destination City and State, or Country and Airport. THAT'S  IT! OUR RESPONSE to you with the quote is usually within 24 hours!
ALSO: For pets outside the USA being shipped TO the USA – you do NOT want a pet shipper in USA to arrange this! You MUST use a known shipper in the country of origin of travel! Pet shippers in USA MUST contact that very same shipper (that you could do yourself) then they charge you couple thousand dollars just to send a simple email!  Pets traveling as excess/checked baggage do NOT need an outside shipper!
REMEMBER: Our unlimited consultations with you are TOTALLY  FREE with NO obligations…NO sneaky charges that often pop up with other shippers! We provide FULL and COMPLETE  ITEMIZATIONS…you WON'T get this from IPATA shippers!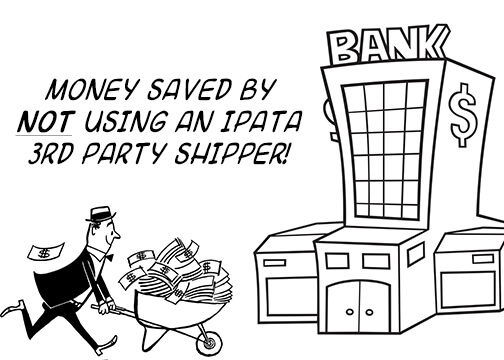 BEWARE: IPATA Pet Shippers often charge you a huge amount for an expedited booking request! There is NO such thing! The airlines have only ONE way to handle bookings. If you use IPATA, that is WASTED money. Just another gimmick to rip you off! At Action Pet Express – we automatically do ALL that is possible to honor your requested time and dates AND there is NO additional charge!
A competitor's new website is similar from other IPATA shippers...
Some IPATA Shippers claim they are "TSA approved" - The TSA has little to do with Pet Exports from the USA. We ALL follow TSA guidelines and do NOT need to be TSA approved. This is just a gimmick statement used by a few shippers.
Discounts. Action Pet Express doesn't offer discounts. Why? Because our prices are SO low, to begin with! Those who offer "discounts" are typically over-priced to begin with and use the "discounts" to sound like a deal. You will see this as you compare our prices with IPATA.
Some IPATA Shippers claim "Most veterinarians cannot sign international travel documents" - The truth is, MOST veterinarians CAN sign International travel certs. MOST are USDA accredited.
Some IPATA Shippers claim "30-minute free consultation." - First of all, not much can get done in only 30 minutes! We offer UNLIMITED FREE consultation.
Some IPATA Shippers claim "Excess (checked) baggage is a thing of the past." - Quite the contrary! It is a thing of the future. IPATA simply gets more and more expensive with CARGO moves.
Some IPATA Shippers claim "Cargo is 'more safe'?" - NO. The options are equal, as both 'Excess baggage' pets and 'cargo' pets fly side-by-side in the very same animal (AVI) compartment on the plane. But more importantly, cargo shipments are loaded BEFORE baggage. This means that baggage is off-loaded BEFORE cargo, so 'excess baggage' pets are available MUCH sooner to the passenger than 'cargo' pets. And, pets traveling as excess baggage do NOT need to meet the requirements of the country where a connection takes place.
There is one reason ONLY that so many IPATA shippers try to push cargo shipments as being best. This is how they can take more of your money. When shipped as 'excess baggage' NO pet shipper is required, so, IPATA shippers can NOT squeeze more money from you!
We would like to say "Thank you" to Club Pet for your long standing service to the pet community.
International Air Pet Shipping
We highly recommend, LUFTHANSA Airlines.
They are by far the BEST for pet travel.
Urgent Notice
Temporary Suspension of Dogs Entering the United States from Countries Classified as High Risk for Dog Rabies. For more, contact the CDC at 1-800-232-4636, cdcinfo@cdc.gov OR the USDA at 1-844-820-2234. Click to read more.
Airlines & Animal Travel
Listen to our interview with Kim Greenhouse from It's Rainmaking Time! to learn more about pet relocation.
IPATA & Third Party Shippers
At Action Pet Express you receive superior service and knowledge (over 50 years in business) at MUCH lower costs than IPATA!  Action Pet Express does not charge for services you do not need or want. You will find that IPATA and third party shippers will charge you for services you do not need! We itemize all charges and we will SAVE you several hundreds, if not thousands, of dollars with your IMPORT and EXPORT transit needs. Your beloved animals(s) deserve the special travel knowledge only we offer!
Want to Learn More?
Read about common IPATA and third party shipping scams, alerts and more!